CS First Unplugged activities
Target Audience
Students (6-12)
Purpose
To support students who are learning from home
To give everyone a break from their screens
Recommended Materials
In addition to the activity booklet, some activities require or optionally benefit from additional materials.
Small counters (like dried beans) to use on the Network a Neighborhood map.
Scissors to cut out the Send a Secret Message cipher wheel.
Cardboard and glue to provide additional stiffness to the Send a Secret Message cipher wheel.
A thumbtack, toothpick, or straightened paper clip to connect the Send a Secret Message cipher wheel.
Description
CS First Unplugged is a set of activities that introduce students to CS concepts without a computer. We've designed this lesson to demonstrate that Computer Science is a lot more than just code.
Instructions
You will find the booklet to all activities in English at this link, as well as Lesson Plan in English at this link.
The activities in this lesson can be completed individually and in any order.
Teacher can take a picture of the learning process and share it on Instagram using #CodeWeekChallengeGoogle #GrowWithGoogle.
You will find the lesson plan and booklet for this challenge at this link.
Share the link to your work in your
Instagram Bio
: tap the
Edit Profile
button on your Instagram and add the link to your work in the Website field. After that, create a new post, add a screenshot of your work, write "
Link in Bio
", add the hashtag #CodeWeekChallenge and mention @CodeWeekEU.
You prefer to share your challenge(s) on Facebook? EU Code Week will pin
a new Challenge post on their Facebook page
. You then just need to comment on the post with the link to your work.
Winners will be selected and offered Code Week goodies every day during Code Week between 9 – 24 October and announced on our Instagram and Facebook channels, so don't forget to check your notifications regularly.
Complete all the Challenges
Challenge completed? Print
the bingo card
and mark the little white bubble on the top left
Share your Challenge on social media and win some cool Code Week prizes
Just upload a picture with the completed row(s), column(s) or even better - the whole bingo - to Facebook, Instagram or Twitter
Make sure to use the #CodeWeekChallengesBingo

Example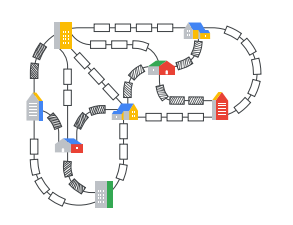 Click
here
to download this challenge as a word document.